C01P Caster LED Film Lamps Introduction
With only half of the size and power of our C02P cinema LED lights, this LED panel light film series surprisingly demonstrates the same versatile functions and brilliant operations. Moreover, this slim LED light for filming brings extra mobility, making it suitable for applications that require frequent movements.
Caster C01P is a portable, high-quality, lightweight, durable and ultra-bright continuous soft LED light panel in the industry. To cater to the markets, we designed the Caster LED film shooting lights with a modern and compact appearance. C01P is the smallest LED film light panel of Caster series, which is flexible and widely used for different shooting situations. The aperture area of C01P film light measures 340x315mm (13.4x12.4''), which makes it an ideal portable, on-the-go light source for mobile applications. Compared with other kinds of film lights, 220W Caster C01P soft LED film light panel is much more energy-saving.
The Caster C01P is fully color "tunable" allowing output of a warm 2700K to cold 10,000K light. Besides, C01P LED panels can also use the full RGBW color gamut for fine adjustments. As for its color rendition, the CRI and TLCI standard of C01P LED film light panels is both above 95. All of these functions as well as 0-100% dimming can be adjusted locally with the onboard controller or remotely via DMX or WIFI. What's more, the LED film light panel also has a USB port for upgrading its software from a thumb drive.
C01P Caster LED Panel Light Film Features
The CCT of SunnyXiao Caster LED film lamps ranges from 2,700 K to 10,000 K, with excellent color rendition. To achieve full plus and minus green correction, you just need simply turn the knob on the control board. Apart from CCT mode, Caster C01P LED film light panel also has HSI mode, GEL mode and so on.
High Brightness Soft Lights
Brighter than a 1KW tungsten soft light, Caster C01P LED lights for film and video have tremendous light output across the entire CCT range of 2,700K-10,000K. In fact, C01P has more than enough light for most applications. In some cases, the light fixture can even compete with natural sunlight. In addition, C01P LED film shooting lights can perform excellently at lower light levels.
The intuitive user interface of Caster C01P RGBW led panel light is very easy to use. With three simple knobs, you can adjust the color temperature, green/magenta point, intensity, hue and saturation freely as you need. Thus, even if you have never used Caster LED film light panels before, it will just take you half an hour to master the control board. For your information, apart from the onboard controls, all functions can be remotely adjusted via DMX or WIFI connections.
Light Weight and Small in Size
Caster C01P LED panel light for filming just weighs 7.6 kg and measures 340x315mm (13.4x12.4''). With this feature, it has been widely employed for shooting scenes where movable led lights are needed.
Durable and Long Service Life
SunnyXiao Caster C01P film lamps are made of high-quality material. Caster series panels are assembled with great care by professional technicians. The service life of C01P LED lights for film and video is beyond a minimum of 50,000 hours. What's more, as a responsible LED light panel manufacturer, we provide 3-year warranty for all Caster series video filming lights.
C01P Caster LED Panel Light Film Specifications
Model No.
Caster C01P
Power
Max.220w
Input Voltage
22~36V DC
Color Rendering Index
CRI Average>95, TLCI Average>95
CCT
2700K-10000K Adjustable
Dimming
0-100% continuous adjustment
Control
APP, Wi-Fi, Art-Net, Wired DMX, Wireless DMX
Light Modes
CCT, HSI, X.Y, GEL, RGBW, EFFECT
Special Modes
Tungsten lamp, Fluorescent lamp, High-speed
Scenes
Party, Cloud Passing, Welding, Paparazzi, Candle, Strobe, Cop Car, Fire, TV, Lightning, Pulsing, Color Chase, Flo Flicker, Club, Explosion, Fireworks
Light Aperture
340x315mm / 13.4x12.4''
N.W.
7.6kg
Certificates
CE, RoHS
C01P Caster RGBW LED Panel Light Film Accessories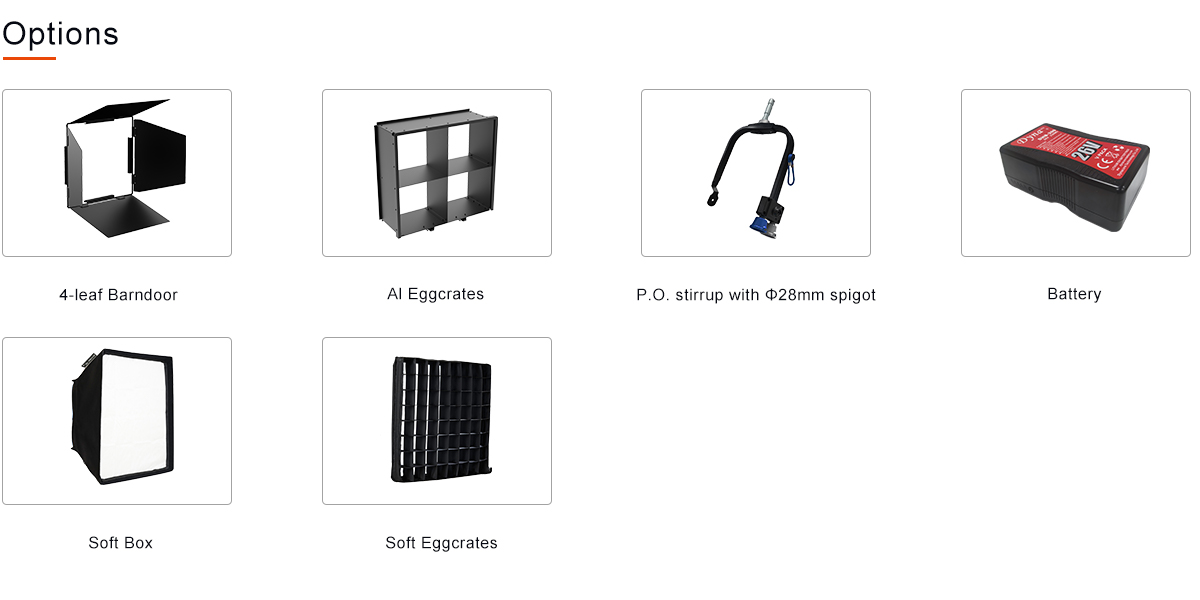 Hot LED Film Lighting Topics
C01P Caster RGBW LED Panel Light Film Dimension